Cabinets
We offer a myriad of styles, colors, and wood choices to help you create a space that perfectly fits your personality, your life, and your budget. And, because it's the smaller details that can really pull a look together, Perry Distributors offers a wide variety of decorative hardware options to select from. Customize the inside of your cabinetry as well with options like Soft-Action Close Drawer and Door Technology, Roll-Trays and built-in Cutting Board and Cutlery Drawers that will make your home work exactly the way you want it to.
Let Perry Distributors Inc. Bring Your Rooms Back To Life
Kitchen Cabinets
Vanity Cabinets
Kitchen Countertops
Laundry Room Cabinets
Call Today For Your Free Computerized Kitchen Design And Design Consultation!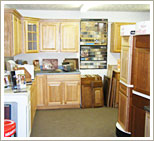 Transform Your Dreams Into Reality
Crown Molding
Tall Filler with Bead Molding
Under Cabinet Molding
Countertop Molding
Toekick
Maple
Oak
Hickory
Cherry
Stained or Glazed